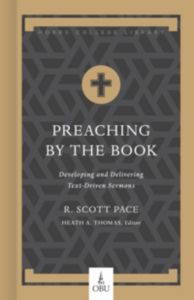 Like many, I too sit in the pew and think about what makes for good sermon preaching. Preaching By The Book by R. Scott Pace offers those who are tasked with the sacred privilege of preaching a helpful guide that is practical as it offers fundamental guidance in the preparation process.
Preaching By The Book discusses a basic format of The Foundation, The Framework, and Finishing Touches. Foundationally, Pace argues for inspiration and investigation. Because preaching is so grounded in our theology, Pace starts by offering a really good theology of preaching. He writes, "The theological nature of preaching begins with our convictions about God and his divine self-disclosure" (5). This divine self-disclosure prompts us to investigate His Word. For this, Pace outlines a seven-step process for surveying the truth.
After laying out the foundation, Pace goes on to talk about the framework for preaching which he explains is interpretation and implementation. Here he discusses sound exegesis, textual interpretation, theological understanding, and relevant implications of the text.  In short, this is what Pace sees as interpretation. Once the text has been interpreted it should be explained how it applies to our daily lives. This is what Pace refers to as implementation. Pace explains, "Our exegetical study can provide a wealth of textual and theological insights, but information without application leads to frustration" (50). For Pace, the application is what provides people with guidance "to experience Christ's victory in their lives" (50). Pace then ends the process by discussing the Finishing Touches. These topics include introductions, illustrations, and invitations.
From my perspective Preaching By The Book is a good resource for the new as well as for the seasoned preacher. It provides a very practical process for sermon preparation and still retains helpful reminders of the eternal importance and significance of sermon preparation. If I had to critique the book I would only have one, and that would be the section on the application. As a member of the laity, I have seen this done well and not so well. In short, I would like to see the application follow consistently with what Jesus or His disciples taught. Applications that spring out of thin air leave many of us in the pew's wondering exactly where that came from. I would have liked to have seen this addressed in more detail.
My personal rating is 4 out of 5 stars.
---
Disclosure of Material Connection: I received this book free from the publisher. I was not required to write a positive review. The opinions I have expressed are my own. I am disclosing this in accordance with the Federal Trade Commission's 16 CFR, Part 255 <http://www.access.gpo.gov/nara/cfr/waisidx_03/16cfr255_03.html> : "Guides Concerning the Use of Endorsements and Testimonials in Advertising."